Posts Tagged 'Celeste 36522'
"Sandy Oaks" is an older subdivision, about 14+ years, located along the east side of Celeste Road, just south of Radcliff Road, several miles west of U. S. Interstate Highway 65 and about 20-25 minutes northwest of Mobile, Alabama.
The majority of homes, about 70%, were built between 1997 and 2000. Around 25% of the homes were built between 2001 and 2006.
"Sandy Oaks" primarily has homes ranging from 1,800+- square feet to 3,187+- square feet as reported in the online tax records. Most homes, about 72%, will have gross living areas between 1,800 and 2,500 square feet with 3 bedrooms and 2 full bathrooms. Homes with over 2,500 square feet represent around 23% within "Sandy Oaks" and considered over-built for its neighborhood.
As for Saraland's home values, it appears that median sale prices for homes (sampling size is around 46+ sales) having 1,650 to 2,250 square feet dropped 17% over a 12-month time period.
Home listings are increasing. Twelve months ago, calculations indicate around 17 active listings compared to around 43 active listings today–two and a half times higher! Having this significant increase in active home listings has increased the housing supply time period from 4.4 months to 12.9 months. This time period represents the absorption rate or, how long it will take a homeowner to sell their home if reasonably priced to sell. It now takes three (3) times longer to sell your home based on the available online MLS (multiple listing service) information!
Sales for 1,650 to 2,250 square feet homes has dropped around 43.5% based on inventory analysis calculations. The information indicated 23 closed home sales twelve (12) months ago compared to 10 home sales in the past three (3) months.
For homeowners in the Saraland, Alabama, the bottom line is, hold tight if you can for a few years and the home market should stabilize and maybe increase some but, don't expect it to be like it was in the past. If you have to sell, consult a Certified Residential Appraiser first so you will have better insight into the property values surrounding your home. Pricing your home correctly will save you so much time. Remember, you are now competing with many other homeowners who are very motivated as well as appealing "short sale" and "foreclosure" offerings.
Al Cheney is a "Certified Residential Real Property Appraiser" who has over 35 years real estate experience within the Mobile Bay Metro Area, Baldwin County and Mobile County of Alabama. You can write Al Cheney at Albert@CheneyAppraisalServices.com or visit http://www.AlabamaRealEstateAppraisals.com/, http://www.CheneyAppraisalServices.com/ or http://www.CertifiedAppraiserNames.com/.
Alabama Port 36523, Axis 36505, Bayou La Batre 36509, Belle Fountaine 36582, Bucks 36505, Calvert 36513, Celeste 36522, Chickasaw 36611, Chunchula 36521, Citronelle 36522, Coden 36523, Creola 36525, Dauphin Island 36528, Dawes 36619, Earlville 36522, Eight Mile 36613, Fairview 36587, Georgetown 36521, Grand Bay 36541, Gulfcrest 36521, Hollingers Island 36605, 36582, Indian Hills 36613, Irvington 36544, Kushla 36613, LeMoyne 36505, Lott 36575, Magazine 36610, Mauvilla 36613, Millertown 36613, Mobile 36608 (and all other zip codes), Moffett 36587, Mon Louis 36523, Mount Vernon 36560, Oak Grove 36613, Prichard 36610, Saint Elmo 36544, Salco 36505, Saraland 36571, Satsuma 36572, Semmes 36575, Theodore 36582, Tillman's Corner 36619, Toulminville 36617, Turnerville 36521, Whistler 36612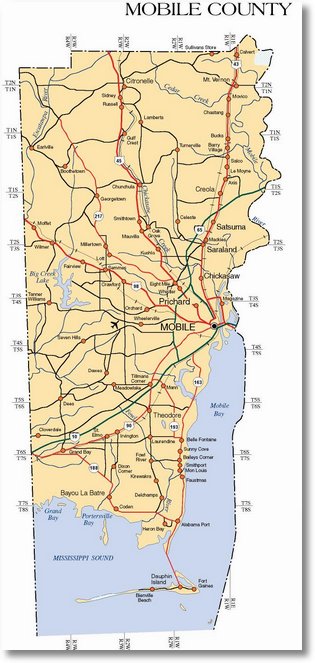 Al Cheney with Cheney Appraisal Services, (251) 533-2424, can handle all of your Mobile County, Alabama real estate property appraiser needs. Cheney Appraisal Services supplies only the highest quality Mobile County, Alabama real estate appraisals. The Mobile County appraisal district is an area where we can satisfy all of your home appraisal needs. Our real estate property appraiser is "certified residential" and "fully licensed" in Alabama. Al Cheney is a real estate appraiser fully qualified to handle your home appraisal, appraisal when settling an estate, tax appraisal and any other appraisal need, such as, vacant land and legal reasons. Al Cheney is also a "FHA Approved" Appraiser.
Certified & FHA Home Appraisals start at $295 per report!
Albert Marshall Cheney, Cheney Appraisal Services, P. O. Box 8888, Mobile, Alabama 36689-0888, accepts residential real estate appraisal assignments within The Mobile Bay Metro Area and the Mobile County communities and towns listed above. Click on the available hyper-links for more information on these Mobile County, Alabama communities and towns. Also, here are most of the appraisal report services with fees provided by Al Cheney with Cheney Appraisal Services:
Condominium Appraisal Report,

$295 & $325

Single Family Residential Appraisal Report, detailed information,

$295 & $325

Limited 2055 "Interior" Appraisal Report,

$275 & $300

Limited 2055 "Exterior" Appraisal Report,

$225 & $250

Complex Or Waterfront Residential Appraisal Report,

$400-$500+

"Certified" FHA Single Family (Home) Residential Appraisals for Baldwin County, Alabama and Mobile County, Alabama,

$295 & $325

Desk Review Report,

$100

Relocation (RELO) Appraisal Report,

$450

Acreage Or Lot (Land) Appraisal Report,

$200 & $250

Recertification of "Value Opinion",

$75

Field Review "Exterior" Appraisal Reports,

$200 & $250

Construction Draw Or Final Inspections,

$75 & $100

Duplex, Triplex Or Other Assignments More Distant,

Quote
The above list covers many appraisal report services provided by Cheney Appraisal Services within Mobile County and The Mobile Bay Metro Area of southwest Alabama.
If you do not see your appraisal report requirement listed above, contact Albert Cheney, (251) 533-2424 or email, Albert@CheneyAppraisalServices.com, with your home or residential appraisal orders and or questions. The business facsimile is (251) 252-7737.