The Stillwater Estates residential development began in 2004. Stillwater Estates is located along the east side of Highway 225, north of Spanish Fort's main city center. Stillwater Estates has yearly dues which cover all common areas, including neighborhood lakes, as well as the clubhouse, swimming pool and tennis courts.
The majority of homes were built between 2004 and 2008. There are approximately 171 lots within this residential development and the built-up is over 85% according to online records.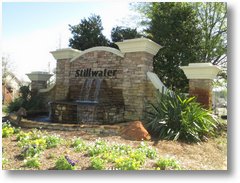 Most homes have four or five bedrooms with three to 4 ½ full bathrooms. Most reported gross living area ranges from 3,045 square feet to 5,000 square feet.
Stillwater Estates has 9 closed arms-length home sale transactions in the past 12 months according to the Baldwin County Navica multiple listing service (MLS). The average price within Stillwater Estates is $504,085 and the average price per square foot is $129.91.
The lowest home sale was $369,000 and the highest home sale was $710,000 in the past 12 months. The median home price for Stillwater Estates is $500,000 with average days on market (DOM) of 135 based on these reported nine home sales.
If a Stillwater Estates home is reasonably priced based on the known recent market data, the online information indicates a 95% to 97% selling price of the list price.
Stillwater Estates currently has 12 active listings with asking prices ranging from $404,900 to $539,950 with gross living areas ranging from 3,124 square feet to 5,292 square feet according to Baldwin County Navica multiple listing service (MLS).
Street names within Stillwater Estates are Alder Circle, Ashberry Court, Applewater Court, Boardwalk Drive, Carson Lane, Dellwood Creek Circle, Farrington Lane, Flintwood Circle, Northbrook Circle, Rushing Water Court and Stillwater Boulevard.
This information provided by Albert Marshall Cheney, Certified Residential Real Property Appraiser, with over 35 years' experience in the Mobile Bay Metro Area of Alabama, Baldwin County and Mobile County which encompass Mobile Bay. You can know and read more information about me by going to the website: http://www.CheneyAppraisalServices.com, http://AlabamaRealEstateAppraisals.com/ or contact me at (251) 533-2424 about my services as well as within the City of Mobile non-financial (personal use, i.e. property tax issues, thinking about selling) "full report with visual inspection" home appraisals only $250.
The general information provided about Stillwater Estates was compiled by using the Baldwin County Navica multiple listing service (MLS). No portion of this information should be construed as an appraisal report for any particular residential property located within Stillwater Estates.