Posts Tagged 'For Sale By Owner'
Daphne, Alabama is sometimes called The Jubilee City (it's like an abundance of seafood) because it has an abundance of quality life things to enjoy! It is a great place to live, play and work! Daphne is proud to have been selected as a "Tree City USA" by the National Arbor Day Foundation. Daphne is a city on the move and full of growth and prosperity. It maintains a beauty and ambience for this small town and, it begins and ends with its strong leadership moving the city forward. Please read more on the City of Daphne's official website by clicking their logo below.
This information has been provided by Al Cheney, a Certified Residential Real Property Appraiser within the Mobile Bay Metro Area, covering Baldwin County and Mobile County of Alabama. You may also contact Al Cheney at (251) 533-2424 and ask about my services and non-financial (personal use, i.e. property tax issues, for sale by owner purchases, thinking about selling) condo or home appraisal fees for only $250. More complex or difficult properties are quoted on a case-by-case basis. Web-links to Al Cheney: http://www.cheneyappraisalservices.com/ or http://buildingabrandonline.com/FinanciallyFreeYourself/.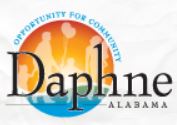 .