Posts Tagged 'real estate appraiser in Alabama'
The Hickory Ridge subdivision has access from Cottage Hill Road or Hillcrest Road. Many of the homes within this residential development were built between 1979 and 1983.
Many of the homes are four bedrooms with two or three full bathrooms. There are a few homes having only three bedrooms and two full bathrooms. Most of the square footage for these homes will range from 2100 square feet to 2900 square feet.
The average price of a home within Hickory Ridge is $175,285 over the past 12 months. The average price per square foot calculates $73.46 over the same timeframe.
The median sale price is $165,000 with a low sale price of $125,000 to a high sale price of $250,000. The average days on the market is 69 days over the past 12 months of known sales information reported within the local multi-listing service.
The seller contribution percentage based on the average price of $175,285 is 1.2%.
This information provided by Albert Marshall Cheney, Certified Residential Real Property Appraiser, with over 35 years' experience in the Mobile Bay Metro Area of Alabama, Baldwin County and Mobile County which encompass Mobile Bay. You can know and read more information about me by going to the website: http://www.alabamarealestateappraisals.com/ or contact me at (251) 533-2424 about my services as well as within the City of Mobile non-financial (personal use, i.e. property tax issues, thinking about selling) "full report with visual inspection" home appraisals only $225.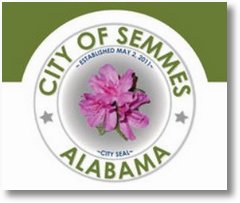 "Historically, the Semmes Community was founded around the railroad and the Semmes Land Company was incorporated in November, 1900, Book 3 Page 484. The rail was set up to transport harvested yellow pine from areas north of the community, as well as to provide passenger transportation. The community was named for Admiral Raphael Semmes (1809-1877), an officer in the United States Navy from 1826 to 1860 and the Confederate States Navy from 1860 to 1865. …"
"The Semmes Community voted on August 17, 2010 by nearly a 3 to 1 margin to become Alabama's 461'st municipality. Mobile County Probate Court Judge Don Davis declared the City of Semmes incorporated with a population of 2,897 on May 2, 2011 after an official census of the municipality was completed. …"
READ more on Semmes, Alabama official website: http://www.cityofsemmes.org/about.htm.
Do you have a City of Semmes, Alabama Home or Land Appraisal question? Talk with Al Cheney, (251)533-2424) about your personal non-financial home (most only $250) and land (most only $200) appraisal requirements within Semmes community. The Semmes community is located within Mobile County of Alabama and around 30 minutes from Historic Downtown Mobile, Alabama depending on traffic.
Semmes locational map is: https://www.google.com/maps/dir/Mobile,+AL/Semmes,+AL+36575/@30.7517517,-88.2899373,11z/data=!3m1!4b1!4m14!4m13!1m5!1m1!1s0x889a4e1df14cf8a9:0x4ce80e5477899e1a!2m2!1d-88.0398912!2d30.6953657!1m5!1m1!1s0x889baecf8b18daaf:0xb0ecca4a7854f1f2!2m2!1d-88.2655845!2d30.7694252!3e0
Cheney Appraisal Services' primary Mobile MSA (metropolitan statistical area) coverage area for non-financial home and undeveloped land appraisal reports are within many communities of Baldwin County and Mobile County, The Mobile Bay Metro Area, encompassing Historic Mobile Bay.
Cheney Appraisal Services' website is http://www.CheneyAppraisalServices.com/.
More complex and waterfront residential properties are quoted on a case-by-case basis.