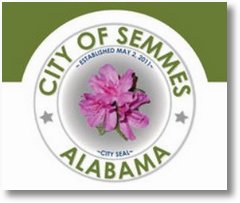 "Historically, the Semmes Community was founded around the railroad and the Semmes Land Company was incorporated in November, 1900, Book 3 Page 484. The rail was set up to transport harvested yellow pine from areas north of the community, as well as to provide passenger transportation. The community was named for Admiral Raphael Semmes (1809-1877), an officer in the United States Navy from 1826 to 1860 and the Confederate States Navy from 1860 to 1865. …"
"The Semmes Community voted on August 17, 2010 by nearly a 3 to 1 margin to become Alabama's 461'st municipality. Mobile County Probate Court Judge Don Davis declared the City of Semmes incorporated with a population of 2,897 on May 2, 2011 after an official census of the municipality was completed. …"
READ more on Semmes, Alabama official website: http://www.cityofsemmes.org/about.htm.
Do you have a City of Semmes, Alabama Home or Land Appraisal question? Talk with Al Cheney, (251)533-2424) about your personal non-financial home (most only $250) and land (most only $200) appraisal requirements within Semmes community. The Semmes community is located within Mobile County of Alabama and around 30 minutes from Historic Downtown Mobile, Alabama depending on traffic.
Semmes locational map is: https://www.google.com/maps/dir/Mobile,+AL/Semmes,+AL+36575/@30.7517517,-88.2899373,11z/data=!3m1!4b1!4m14!4m13!1m5!1m1!1s0x889a4e1df14cf8a9:0x4ce80e5477899e1a!2m2!1d-88.0398912!2d30.6953657!1m5!1m1!1s0x889baecf8b18daaf:0xb0ecca4a7854f1f2!2m2!1d-88.2655845!2d30.7694252!3e0
Cheney Appraisal Services' primary Mobile MSA (metropolitan statistical area) coverage area for non-financial home and undeveloped land appraisal reports are within many communities of Baldwin County and Mobile County, The Mobile Bay Metro Area, encompassing Historic Mobile Bay.
Cheney Appraisal Services' website is http://www.CheneyAppraisalServices.com/.
More complex and waterfront residential properties are quoted on a case-by-case basis.