Posts Tagged 'Mobile Alabama homes for sale'
Skip Herndon is committed in providing outstanding service based on over 24 years of real estate knowledge and experience… a real value to his buyers and sellers.
Skip is known for developing quality working relationships with his clientele; relationships based on respect, integrity, and trust.
Whether you are purchasing, selling, or both… he ensures that you have the support and tools you need to make sound, informed decisions and negotiate the best deal possible. His focus will always be on your goals. Skip will be with you every step of the transaction with constant email and text updates from contract to closing while referring respected lenders, home inspectors, contractors, insurance carriers and home warranties.  He will always go the extra mile for you!
If you are looking for a Realtor who will take the time to listen to your needs and dreams, work tirelessly to facilitate your goals without compromise and his commitment in making you priority #1… Skip should be your agent of choice!
Whether you are buying or selling residential or commercial real estate or simply considering a move in the near future make sure you call Skip Herndon first at (251) 421-2076 or email your questions to skip4homes@gmail.com. Visit Skip's web page by clicking on the photographs.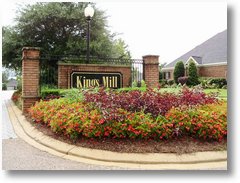 The Kings Mill subdivision is located along the western side of

Knollwood Road, south of Cottage Hill Road, the western part of Mobile, Alabama.
The Kings Mill development has 39 homes, built between 1998 and 2004, with most having 1,850+- square feet to 2

,700+- square feet of living area. The majority of homes have 3 bedrooms and 2 or 2 1/2 bathrooms. There are about nine homes having 4 bedrooms. The home values will mostly range between $275,000 and $300,000.
Albert Cheney, Cheney Appraisal Services, covers the Mobile Bay Metro Area, Baldwin County and Mobile County of Alabama. Albert Cheney is an active Certified Residential Real Property Appraiser and FHA Approved Appraiser with 35+ years experience in the real estate industry. Call Albert Cheney at (251) 533-2424 or Albert@CheneyAppraisalServices.com if you require more information about Alabama real estate and ordering a "Certified" real estate appraisal report.