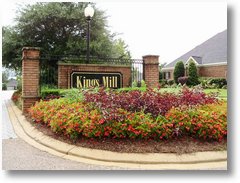 The Kings Mill subdivision is located along the western side of

Knollwood Road, south of Cottage Hill Road, the western part of Mobile, Alabama.
The Kings Mill development has 39 homes, built between 1998 and 2004, with most having 1,850+- square feet to 2

,700+- square feet of living area. The majority of homes have 3 bedrooms and 2 or 2 1/2 bathrooms. There are about nine homes having 4 bedrooms. The home values will mostly range between $275,000 and $300,000.
Albert Cheney, Cheney Appraisal Services, covers the Mobile Bay Metro Area, Baldwin County and Mobile County of Alabama. Albert Cheney is an active Certified Residential Real Property Appraiser and FHA Approved Appraiser with 35+ years experience in the real estate industry. Call Albert Cheney at (251) 533-2424 or Albert@CheneyAppraisalServices.com if you require more information about Alabama real estate and ordering a "Certified" real estate appraisal report.