Posts Tagged 'ALABAMA beaches'
On the 20th April, 2010, the Deepwater Horizon offshore drilling rig, operating off the coast of Louisiana, had a massive oil spill in the Gulf of Mexico. This oil spill resulted in a blowout leading to an explosion. At this point in time, Gulf Coast residents were not fully aware of its severity but very concerned about their future.
Now, we're twenty-eight (28) days and counting down to a potentially life changing event for Alabamians. We are all wondering about our beautiful Alabama beaches, our coastal waters, our wildlife and our livelihood. How severe will this oil spill affect our lives in Alabama? Are we counting down to an impending threat to the Alabama coastline? Will it be a disaster negatively affecting the Alabama coastline for decades to come? How will Alabama coastal properties be affected by this catastrophe? Will the marketability of coastal Alabama real estate be affected and labeled with the stigma as "oil spill property," whether true or false? Will your property be worth more or less after the oil spill reaches the shores of Alabama? I think you already know the answer for many of these questions.
If your coastal real estate becomes affected from this oil spill, contact a qualified attorney for advice and remember Cheney Appraisal Services, Albert M. Cheney, (251) 533-2424, as your Certified Residential Appraiser.
Alabama Real Estate Appraisals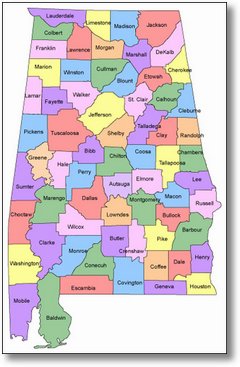 Certified Approved Appraisers For Home And Other Real Property Appraisals
Certified Appraiser Names (CAN) website is here to assist with your Alabama real estate property appraiser needs.
Certified Appraiser Names (CAN) website gives you the ability in finding the highest quality Alabama real estate appraisals by providing web-links to Active, Certified, and Approved Appraisers.
The Alabama real estate appraisal district is an area where Certified Appraiser Names (CAN) tries to provide qualified real estate appraisers who can handle all your appraisal requirements—Acreage and Lot (Land) Reports, Before & After home valuations (hurricane, storms), Commercial, Desktop and Field Reviews (residential properties), Employee Relocations (ERC reports), Estate Valuation Reports (Settling Estates with real property), Equity Line loans, Federal (IRS) and State tax situations, Foreclosure and HUD home appraisal reports, Home Modifications and Retentions, Home or Residential Mortgage refinancing, Matrimonial Real Property settlements (Divorces), New Home Construction (progress and final inspections), Primary and Secondary residential mortgages, Real Property Tax Assessment appeals, Removing Private Mortgage Insurance (PMI).
Go to http://www.CertifiedAppraiserNames.com/ and search for your city or town in Alabama, click on an appraiser's web-link of choice, and call them today for a FREE real estate appraisal quote!
Are you a Certified Approved Real Estate Appraiser with an active website and wanting to swap web-links with Albert Cheney at http://www.CheneyAppraisalServices.com/? If you are, call Al Cheney at (251) 533-2424 or email your interest to AlbertCheney@CheneyAppraisalServices.com. Thank you!